The Flow blockchain took a further step back in NFT sales volume during the month of March after experiencing a 28% dip in sales from January 2022. 
March was an arduous month for several areas of the crypto market. NFT collectibles and sales were hit especially hard, including Flow, which saw a massive drop in NFT sales. 
Based on Be[In]Crypto Research, the total sales volume recorded by the Flow blockchain in the third month of 2022 was around $44 million. 
In the early months of 2021, Flow was the go-to blockchain for developers of non-fungible token (NFT) collections. Because of this, it's surprising to see its sales volumes dwindle throughout 2022. Its NFT sales fell by 22% from February 2022's sales of approximately $57 million.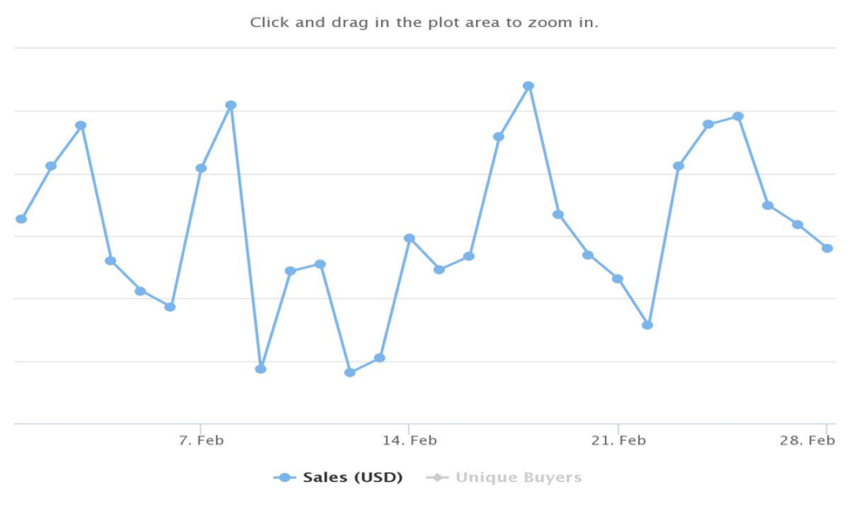 Flow is a blockchain specifically built for the creation of NFTs, applications, and crypto games.
Volume decreases by more than $165 million 
The decrease in NFT sales volume generated by Flow could hurt the blockchain's utility in the future. This is because developers of digital collectibles are interested in seeing their innovations patronized by investors on high-volume blockchains. 
Aside from Flow, other blockchains in the NFT space include but are not limited to Ethereum (ETH), Solana (SOL), Avalanche (AVAX), Polygon (MATIC), Binance Smart Chain (BSC), Tezos, Palm, WAX, and Fantom. 
Flow's NFT sales saw a 78% decrease year-over-year from March 2022. The total NFT sales for Flow in March 2021 were in the region of $209 million. The difference between March 2022 and March 2021's sales volume was $165.32 million.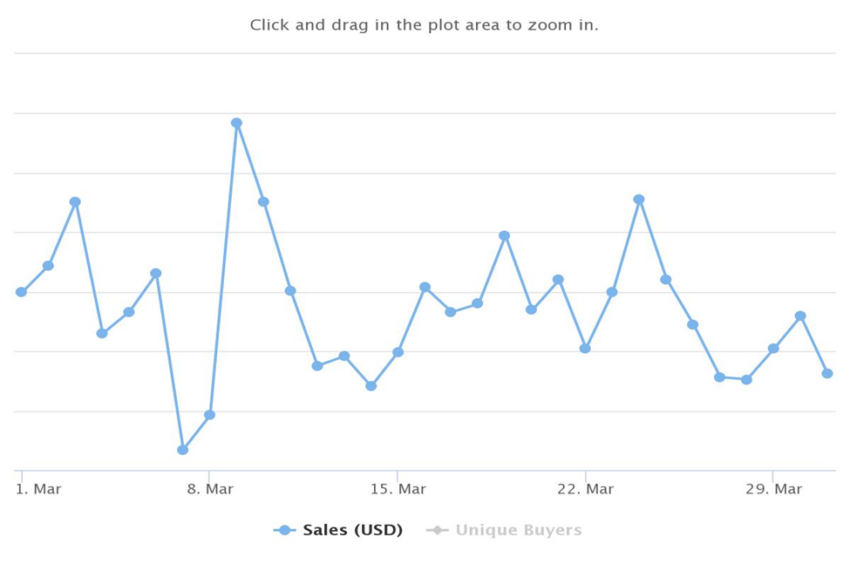 Flow recorded an all-time high NFT sales volume of approximately $224 million in February 2021. Due to the bearish outlook of the market in the second half of 2021, Flow NFT sales suffered a huge drop. By the end of 2021, February sales had dwindled by 78% to around $44 million. 
What caused NFT sales to decline? 
Declining unique buyers and average sales values can be credited as factors that caused the massive drop in NFT sales.
Unique buyers 
In March 2021, the total number of unique buyers was 184,419. 
In January 2022, the total number of unique buyers was 65,038. 
In February 2022, the total number of unique buyers was 83,228. 
In March 2022, the total number of unique buyers was 52,085. 
It's evident from the statistics provided by CryptoSlam that unique buyers in March 2021 were more than three times that of March 2022. 
Aside from this, January and February 2022's unique buyers were 24% and 59% higher than March 2022's unique buyers. 
Average sale value 
In March 2021, the average sale value was $157.82. 
In January 2022, the average sale value was $33.77. 
In March 2022, the average sale value was $29.56. 
Although the total transaction count of March 2022 (1,500,590) was higher than March 2021 (1,328,591), March 2022's average sale value was 81% below that of March 2021. 
Effect on FLOW price 
FLOW is the native asset of the entire Flow ecosystem. 
FLOW opened March trading at $6.35, reached a monthly high of $6.85 on March 27, and closed the month at $6.80. 
Overall, FLOW returned a mild 7% increase in price in March 2022.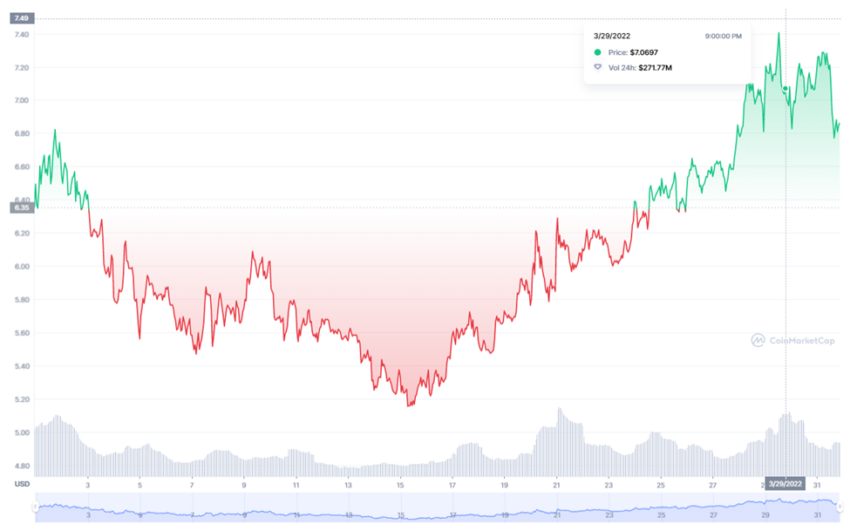 Disclaimer
All the information contained on our website is published in good faith and for general information purposes only. Any action the reader takes upon the information found on our website is strictly at their own risk.