FTX saw increased trader and investor interest on its platform which reflected positively in its trading volume during the month of March after the exchange reached new lows in February 2022.
March proved to be a difficult month for decentralized exchanges but a great month for certain centralized exchanges such as FTX. Based on Be[In]Crypto Research and data from Nomics, the exchange recorded around $363 billion in trading volume during the third month of 2022.
Due to FTX's popularity in the market and its consistent appearance in Statista's periodical report on the biggest cryptocurrency exchanges by trading volume, such a figure in volume may seem small in the eyes of many traders.
With that said, FTX increased by 5% from February 2022's volume in March as several major cryptocurrencies such as Bitcoin (BTC) and Ethereum (ETH) made attempts to recover.
The trading volume for February 2022 was approximately $343 billion.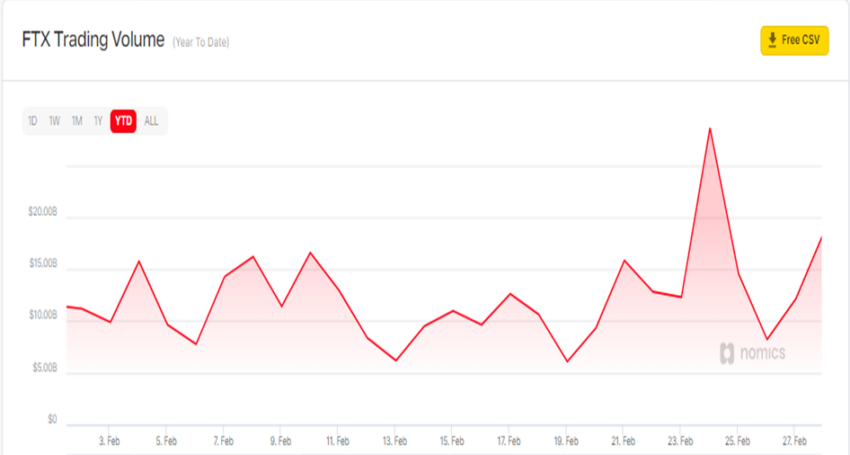 FTXs volume spikes by more than $140 billion 
FTX competes with other high-volume exchanges such as Binance, OKX, HitBTC, Upbit, Coinbase, Crypto.com, KuCoin, and Huobi Global, among others. Seeing a soaring volume makes the exchange attractive to novice or beginner traders. 
FTX saw a 64% increase in trading volume year-over-year from March 2021. The trading volume for March 2021 was around $220 billion, according to data from Nomics.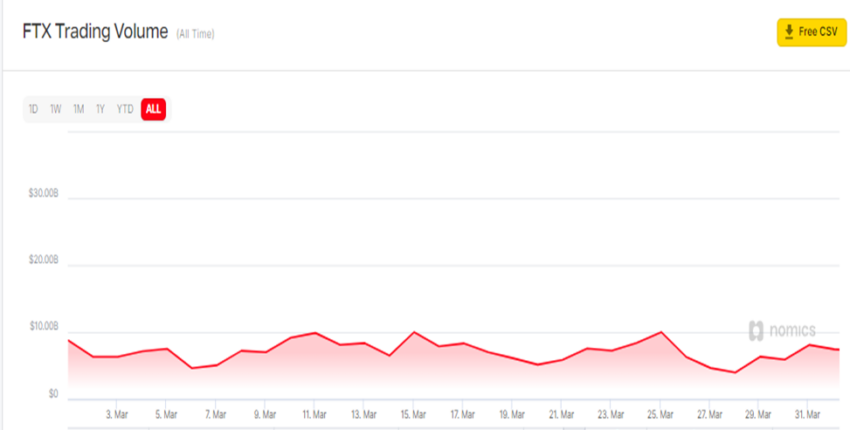 The difference between March 2022's and March 2021's trading volume was $142.7 billion.
FTXs volume in March of 2022 is still lower than most months in 2021. During the boom in cryptocurrencies in May 2021 which saw several cryptocurrencies become more valuable than mainstream companies, FTX reached an all-time high in trading volume.
In May 2021, the total trading volume of FTX was in the region of $555 billion.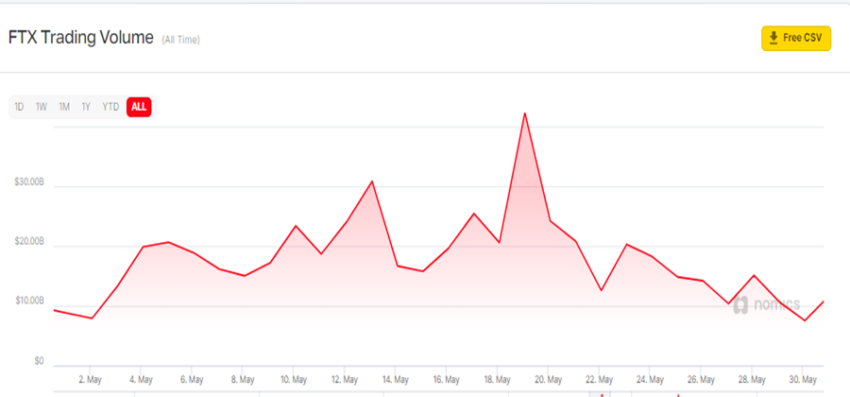 FTX almost tested May 2021's high in November 2021 when Bitcoin and Ethereum reached new all-time high prices of $68,789.63 and $4,891.70 on Nov. 10 and Nov. 16 respectively. The trading volume for November 2021 was approximately $548 billion.
After the crypto market flipped bearish in December 202, trading volume dropped to around $467 billion. 
What caused FTX's soaring volume? 
The expansion of the number of cryptocurrencies supported by FTX can be credited for the rise in volume year-over-year in March. 
FTX added ApeCoin (APE), the cryptocurrency inspired by the highest selling NFT collectible Bored Ape Yacht Club (BAYC) collection on March 16, 2022.
FTX added support for the TerraUSD (UST) in March 2022. 
On the last day of February 2022, the exchange announced that it would be listing Terra (LUNA) for trading.  
FTX added support for Euro Tether (EURT) in January 2022 to help European traders convert their holdings into stablecoins during bearish cycles. 
On Jan. 4, 2022, FTX announced support for NEAR. 
FTX announced support for the trading of Avalanche (AVAX) in the last month of 2021. 
Overall, some of the tokens listed within the last six months up to the time of writing have contributed massively to the trading volume of FTX in March 2022. 
Among the biggest markets on FTX, NEAR/USD, AVAX/USD, and LUNA/USD featured in the top-10.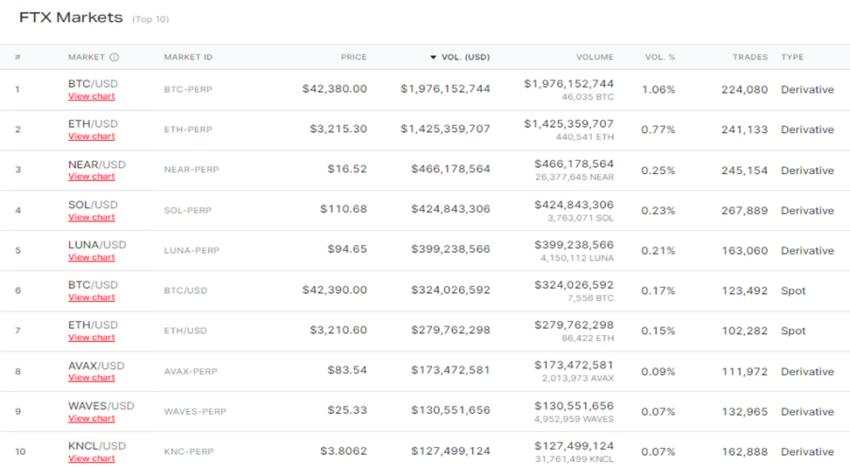 Impact on FTX Token 
The spike in volume impacted the price of the exchange's native FTT token positively.
FTT opened at $45.97 on March 1, 2022. The token rose by 15% to hit a monthly high of $53.19 on March 28 and closed the month on March 31, 2022, at a price of $48.89.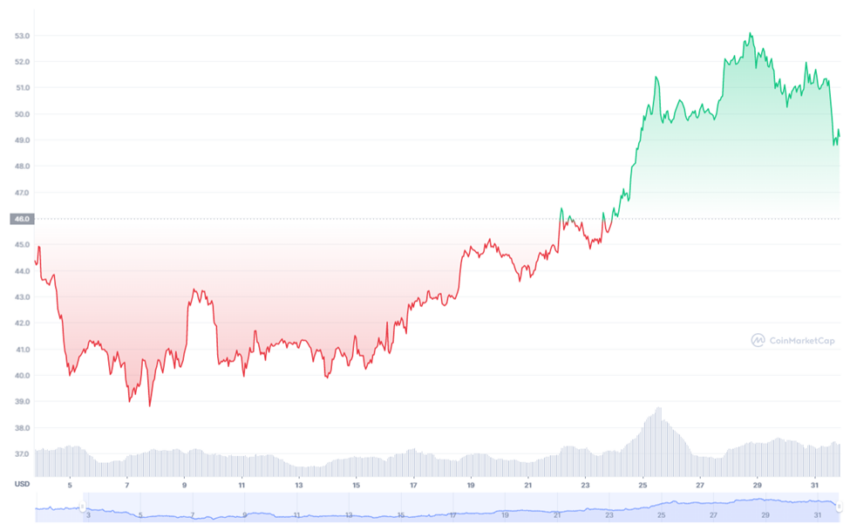 Investing in FTT on March 1 would have seen your investment increase by 5% by the end of the month.
Disclaimer
All the information contained on our website is published in good faith and for general information purposes only. Any action the reader takes upon the information found on our website is strictly at their own risk.