Despite Bitcoin miner revenue increasing in March, Ethereum miners still came out 10% ahead in revenue over miners of the first blockchain-backed cryptocurrency. 
March proved to be an arduous month for Bitcoin miners. According to Be[In]Crypto Research, miners were able to generate approximately $1.21 billion in revenue during the third month of 2022. 
Inasmuch as this figure seems low when you consider the demand for Bitcoin, the total mining revenue for Bitcoin was up from February 2022. The total revenue for March increased by 14% to around $150 million. 
The total profitability of Bitcoin mining over the past year was down by 30% since March 2021, which saw $1.75 billion in revenue recorded.
Although Bitcoin mining revenue was up in March, the single-day high on revenue for March 2022 was still 4% lower than the best day high in February. The single-day high for February was $50.05 million, according to data from YCharts.
With that said, the single-day high for March ($47.54 million) was lower by more than 20% from January 2022's high of $60.16 million.
Ethereum continues to outpace Bitcoin mining
While Bitcoin miners managed $1.21 billion in March revenue, Ethereum miners generated $1.34 billion. Following the pattern of Bitcoin, Ethereum revenue soared by 7% from February.
February 2022 saw Ethereum mining bring forth total revenue of $1.25 billion. Ethereum mining also saw a year-over-year monthly decrease in March. March 2021 saw $1.41 billion in revenue generated, while 2022's figure decreased by 4%.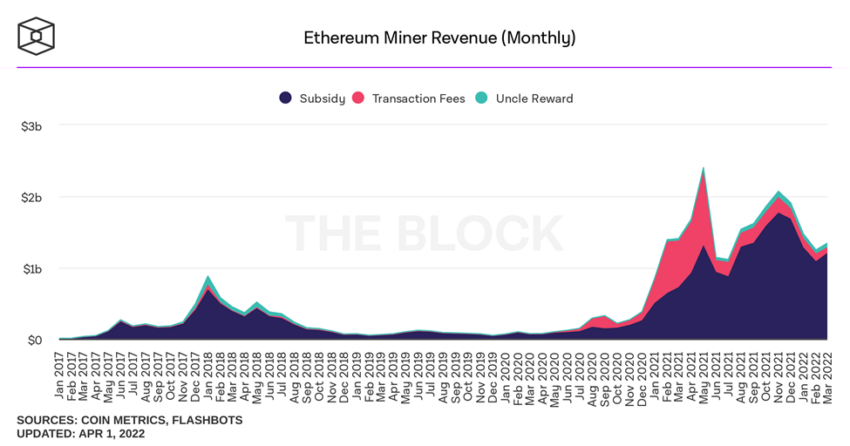 Miners still prefer Ethereum in March 2022
As of April 2022, Bitcoin is still the largest digital asset by market capitalization. However, when it comes to mining revenue, Ethereum is the only asset bringing forth more revenue for miners.
Before Ethereum surpassed Bitcoin in March 2022, February 2022 saw Ethereum revenue surpass Bitcoin by 17%. In addition to this, mining revenue for Ethereum outpaced Bitcoin by 20% in January 2022, 32% in December 2021, and 65% in May 2021.
What caused the increase in mining revenue?
To understand the increment in mining revenue, we should understand the factors that help in the calculation of mining revenue. To calculate mining revenue, we need to factor in the price of a coin and the number of coins (in this case ETH and BTC) earned in March.
Normally, in a bullish market, mining revenue tends to go up since the prices of coins are soaring. On the other hand, when there is negative crypto market sentiment, mining revenue goes down along with the price of assets.
A recovery of the market towards the end of March buoyed by increasing demand for Bitcoin and Ethereum can be credited as the primary factor for the increment in mining revenue for March.
Ethereum opened on March 1 with a trading price of $2,919.78. The native asset of the Ethereum ecosystem reached a monthly high of $3,470.19 on March 29 and closed the month by exchanging hands for $3,281.64. Overall, ETH spiked by approximately 18%.
In addition to this, there was an increase of 4% in February's trading volume. Trading volume for February was around $416 billion while volume for March was approximately $436 billion. This helps explain the rise of the price of ETH in the last days of March 2022.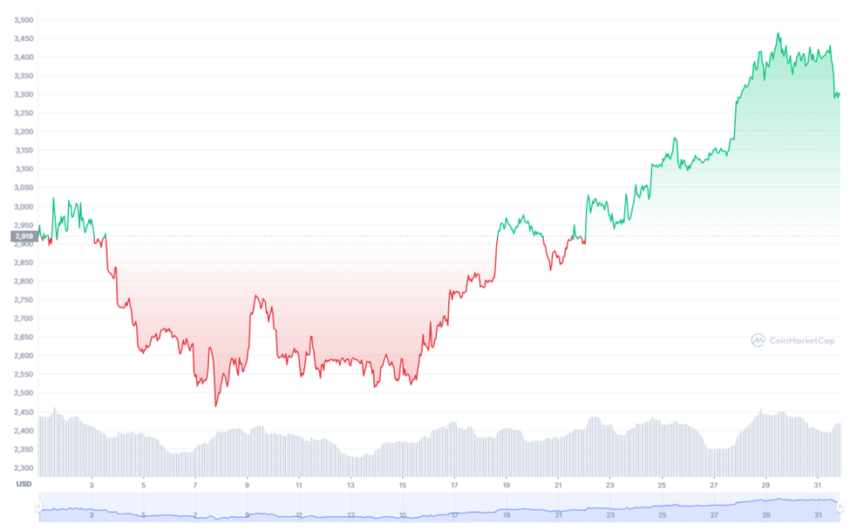 Bitcoin began March 1 by trading for $43,194.50. BTC reached a monthly high of $48,022.29 and ended March 31 by trading for $45,538.68 — an increase of 11%.
The trading volume of Bitcoin spiked even further in March. After plunging by 27% from January's $923 billion in February ($671 billion), Bitcoin volume soared by 23% from February to March's trading volume of $830 billion.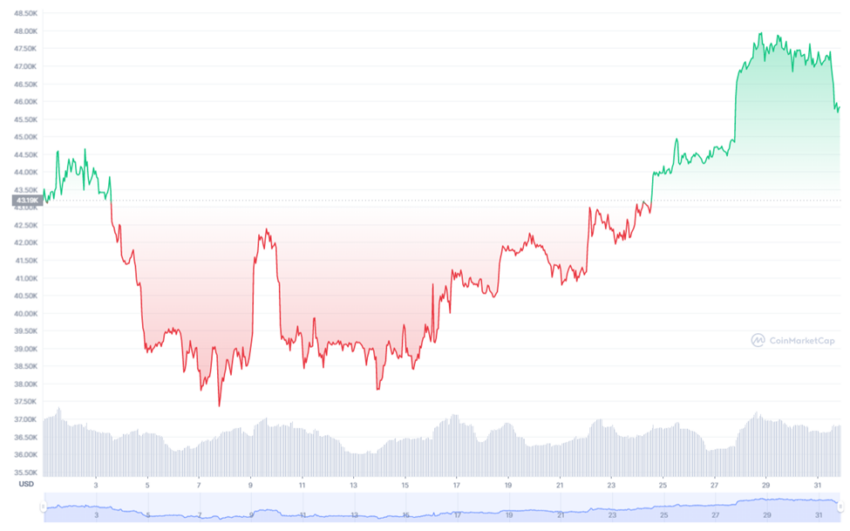 Drawing inferences from the factors used in calculating mining revenue, we can conclude that the primary factor in mining revenue increases in March 2022 stemmed from the increasing digital asset prices.
Disclaimer
All the information contained on our website is published in good faith and for general information purposes only. Any action the reader takes upon the information found on our website is strictly at their own risk.